Trip to Goyt Valley
Today the weather was absolutely boiling, so Me and Amanda decided to go for a small picnic and walk around Goyt Valley. Goyt Valley is just outside Buxton In Derbyshire. As you drive out of Buxton you drive down what is probably the steepest road I have ever seen. Although the pic below isn't of the hill, it was just me messing around with the camera whilst Amanda was driving.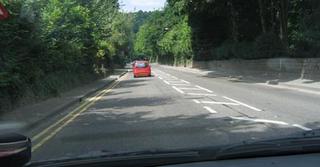 Goyt Valley is basically a big reservoir with lots of hills around it. It is a very nice place to go and we usually like to go once a year for a walk. The only problem was that today, in the morning, I helped my friends Neil and Caroline to finish moving into their new house, so after that I was quite tired, and the intensity of the sun that day meant we didn't get very far around the walk. Not even a quarter of the way around :-) We just decided to sit down, admire the view and have our lunch.
The above picture shows Amanda trying to find out were we are supposed to be going before starting the walk .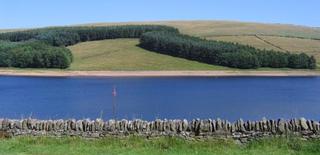 Whilst walking back to the car, we stopped on a bridge, and noticed the shadow of us on the rocks below. Me being me, I had to get the camera out and takes lots of pictures. Hooray for digital cameras.

When we started driving home, we thought we saw what was a suicidal sheep. As Amanda was driving a sheep ran across the road and jumped over the wall. But on the other side of the wall you couldn't see any grass, only water, so it looked like the sheep had jumped the wall and gone straight into the water. Amanda stopped the car and I got out to have a look, but luckily the sheep was safely standing on the grass drinking out of the reservoir. I guess he thought it was too hot also :-)
When we got back home, we went to the video shop and rented out the new version of Flight of the phoenix and watched it whilst sharing a bottle of wine. In the evening we went out to the pub to see our friends Liz and Ian who also live in the same town as us, Belper.
Labels: Out and About, Walking