Holiday in Turkey
Me, Amanda and my sister Charlotte have just for back from our summer holiday in Turkey. We arrived in Bodrum airport at 4am in the morning on the Monday. To get to our hotel we had a 2 hour coach transfer to Kusadasi. We stayed in the Tusan Beach Resort hotel. The hotel was 4 star and very comfortable, although the rooms could do with a little modernizing.
We got a few hours sleep and then got up for breakfast. We didn't want to wander too far from the hotel as we were still quite tired from the traveling. Unfortunately because we went to the hotel in high season, we couldn't get a sun bed by the pool on the first day as you need to get up quite early to reserve one, so we decided to goto the beach instead. The beach was very nice and the water was warm.
Amanda and Charlotte both went to the shop and bought inflatable lilos for the sea water. Luckily they pumped them up for you in the shop, or they would have made me do it.
On Tuesday morning we managed to get sun beds by the pool, so we relaxed there for the morning.
In the afternoon we decided to get the Dolmus bus in to Kusadasi to have a look around. The city centre was quite busy and their were plenty of shops all trying to get you to go in and buy the vast range of fake clothes they have.
On Wednesdays in Kusadasi they have a huge covered market. We decided to go along and see what we could find. We got their nice and early so it wasn't too busy. Amanda bought a pair of jeans. They were fakes, but they are made to such high quality it can be difficult to tell the difference.
Once we had finished in the market we went for another look around town, as Charlotte had her eyes on a pair of shoes, so we wanted to try and haggle them down in price. You have to haggle for everything. They suggest a price, and you offer half that, then you both haggle to a happy medium. I'm no good at it, but Amanda is a haggling genius. I swear she must have a degree in it. Must be all that northern air she breathed as a kid.
Whilst we was in town we decided to book some of our excursions, we booked a boat trip, jeep safari and quad biking. On Thursday we just relaxed by the pool. Amanda and Charlotte went and had a Turkish bath and massage, I wasn't to keen on this so I stayed by the pool and drank beer. We was all inclusive so you could drink as much as you liked. On Friday Charlottes boyfriend Jamie arrived. He was only joining us for a week before he had to go home and join the Army to train as a plumber.
On Saturday we was meant to go for a boat trip, but the coach never picked us up. We went back into Kusadasi to the tour operator, and it turned out they had just made a simple mistake and not added us to the book. They were very apologetic, so in the end We decided to go to a water park called
AdaLand
which was only a few minutes away from out hotel. The park was great, although I'm sure some of their slides would never pass UK safety standards. On one I wasn't actually touching the slide as I came hurtling down at what felt like 100mph. I declined to go on the other 2 slides next to it, as I had already got winded. They also had some smaller tunnel slides that you go down on in flatables, these were good fun.
My favorite slide at the waterpark was a kind of huge twisted half pipe, were they drop you off one side on a rubber ring and you slide down and up the other side and slowly slide down this funnel bit into a pool.
Another attraction they had at Adaland was a rafting circuit. This had quite a powerful wave machine, so they made you wear life jackets and helmets. The rafts were for 2 people, so I went in one with Amanda. But unfortunately she wasn't very strong at rowing, so we kept on spinning around as you really need to people to steer it. It was a bit of a disaster really, but was good fun.
On Sunday we went on a jeep safari that takes you through the country side and up a few mountains. The views were amazing, although it was quite worrying that on one side of the road you have a 400 foot drop down a cliff face with no safety barrier.
Halfway through the safari we stopped off at a restaurant for lunch, and then drove to beach. This was a beach that the Turkish use for their holidays. They must have though it quite strange to see all us there.

On Monday we finally went on the boat trip. The coach actually picked us up this time. We went to the harbor at Pigeon Island and got on our boat. There was probably about 15 people on our boat, so there was plenty of room to spread out and sun bath.

The boat stopped off at a few different bays were we could swim in the sea. The water was nice and warm.

At one of the bays you could climb up a cliff face. I didn't go as I was quite happy swimming in the sea, but Amanda did and she took the picture below.

On Tuesday we went on our quad biking trip. Every holiday Me and Amanda do we like to do quad biking. We first did it on our honey moon in Tunisia, and we enjoyed it so much we always try and book it. The trip lasted 3 hours and we was totally knackered after that. We also got completely covered in dust. We must have looked like complete tramps when we got back to the hotel.

In the afternoon I started to feel a bit ill and started running a temperature, so I stayed in bed all evening, and Amanda went out for a meal with Charlotte and Jamie. I was still ill the next day, but I went down by the pool and sat in the shade. Luckily towards the end of the day I started feeling a lot better. I think it was because I got too much sun on the boat trip. I mistakenly assumed the sun cream I was using was water proof, so didn't re-apply it after I got out of the sea. Opps.

On Sunday Me and Amanda went on a trip to a set of ruins called Ephesus. The trip started off with a trip to a pottery factory. They had a demonstration area were they showed you how the pots are made. They asked for volunteers, so Amanda quickly raised her hand.
Amandas first attempt at a pot didn't turn out too well, as you can see below.
But on her 2nd attempt the guy running the demonstration showed her what to do, and the 2nd pot turned out quite well.

After the pottery factory we traveled to the first site. The first ruins we saw was the Temple of Artemis. But to be quite honest this was crap. There was hardly anything there except a few broken parts of a pillar.

After this we went to the main Ephesus site. The ruins here were much more impressive. If your into your Bibles and Jesus stuff, then this city is talked about in the book of Ephesians. It was very hot at Ephesus, so it made the trip quite difficult as you was in the scorching sun for 2 hours trying to listen to the quite who had to speak in English and then German.

The 2 photos below are of the entrance way to the main library. This looks very impressive when you are there.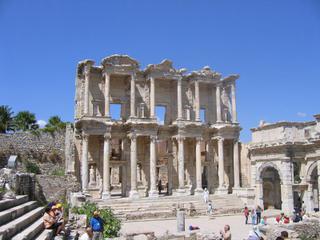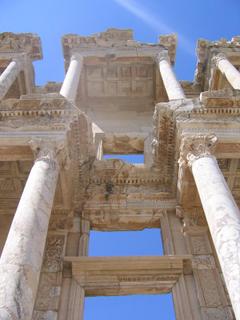 On our last day in Kusadasi Amanda thought it would be a good idea to spend the rest of our holiday money on clothes. Typical eh! So we trapsed around the shops. We came to one place called Brothers Boutique, and the guy in there was very friendly. Naturally they gave us the hard sell, but Amanda fought back with her haggling super powers. The guy in the shop treated it as a game so it was very funny to watch. I even got some very good fake Quicksilver tops too at a good price.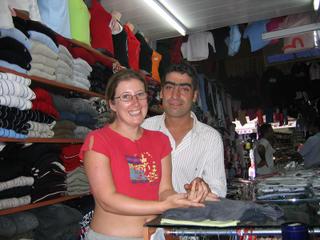 Amanda Haggling over some tops.


Late on Sunday night we had to travel back to the UK. Our flight from Bodrum was at 1.30 in the morning. We was very tired and didn't really enjoy the flight. But it was good to finally land. Because we flew back to Stanstead Airport Me and Amanda had to stay at my parents house for the rest of the night, then we drove back to Derby in the morning.

The holiday was really good, and I recommend you try and go there too. You can get some great bargains in the shops and there are lots of excursions that you can do. This is the 2nd time Me and Amanda have been to Turkey and I'm sure we will end up going there again in the Future.


Labels: Holidays