Holiday to San Francisco
Just got back from our holiday to visit Simon (coops) in San Francisco. We set off on the friday and drove down to a hotel near Gatwick airport. This made things much easier for the next morning when we flew. We got to Gatwick at around 9am the next morning and checked in our bags. We was doing the flight to San Francisco in 2 parts. The first leg was to Minneapolis, and then from Minneapolis too San Francisco. We flew with Northwest Airlines. Being an American airline I was expecting everything to be swish like British Airways or Virgin, but the whole experience was a little shonky. Don't get me wrong, the flight was ok, but I think you get much better service from a british airline. We was a little nervous about our transfer at Minneapolis. Neither Me or Amanda had done a transfer on a long flight and was unsure what to do when we got there. A lot of friends that I had spoken too told us that the staff at Minneapolis were generally unhelpful, but luckily the staff we asked for help were very helpfull and polite. We had about 2 hours to wait until our connecting flight to San Francisco, so we got something to eat and then waited at the gate. Out next flight left on time and it took a further 4 hours to reach out destination. Once we landed I sent Coops a text message and he picked us up from the airport.
Coop's apartment is right on the edge of the financial district in the city which was really handy for transport when it came to traveling around the city. By the time we got to Coop's apartment it was fairly late so we went to an Irish bar just down the road for a few drinks.
On the sunday we got up fairly early and went for a walk. Coops showed us around the area so we could get out bearings. We walked through the Yerber Beuna Gardens. This is just infront of the Metreon cinema complex opposite the Museum of Modern Art. We walked down to Union Square and then back towards Coop's flat. On the way back we went to this really cool Organic supermarket to pick up a few basic supplies. We also got lunch there, we got some huge organic rolls. They were huge!!
In the afternoon we all went to the
San Francisco Museum of Modern Art
. I can't quite say we are fans of modern art, but we wanted to go. We had a good time there, but for the wrong reasons. We spent most of the time laughing at the exhibits. Some of them really were shit. For example, one piece of "Art" was 2 plain white canvas's placed next to each other, and another example was a canvas just painted blue. Maybe I just don't get it. Not all the pieces were rubbish though. Some of the exhibits really looked like the artist spend alot of effort in creating the pieces, and they looked good. The museum also had a photography exhibition of photos from the 1906 earthquake in San Francisco. This section of the museum was really interesting.
After the museum we went for some drinks and then went back to the apartment. Later in the evening, Coops drove us to the other side of the Golden Gate bridge for the sunset. Unfortunately it was quite cloudy and misty so the photo's didn't come out great, but it was good to see the bridge.
After China town we walked around California street and the Nob hill area. Just off California street there was a cathedral called
Grace Cathedral
. Inside the is a huge carpet called the Labyrinth were you are supposed to take off your shoes and walk around the maze pattern on the floor. Amanda did this and it took about 20 mintues.
On Thursday we headed back to Fishermans Wharf. We first went to the
Ripleys Believe It Or Not Museum
. This was pretty good, lots of bizare facts to be learnt here from around the world. I must catch the tv show on sky when it's on next. After the museum we catched the bus down to where the levi's head office was and walked up hundreds of steps to where
Coite Tower
was on Telegraph Hill. This tower was built as a monument to the fire fighters of San Francisco and is shaped like the end of a firemand hose. When you go into the tower you can get an elevator to the top of the tower were you get great views of the city. When we had finished here we walked back down the steps to the levis office and went to a really nice italian resturant were I had a really nice pizza and Amanda had a Calzone. In the afternoon we just chilled out and went to Ben and Jerries for some ice cream. We stuck around Fishermans Wharf for a while as we was booked onto the
Alcatraz
evening tour. We got the boat to Alcatraz around 5.20. Unfortunatly we didn't have jackets with us as it was very hot that day, but when we was at Alcatraz it was very cold as there was a lot of wind. The tour was pretty good. As we got off the boat a tour guide gave us an introduction to the history of the island.
On the Saturday, all 3 of us got ready to drive up to Yosemite. Me and Amanda walked into town to get some breakfast and to buy some maps for the highways. We set of around 11am in Coops's mini and got on the road. It took about 4 hours to get to Oakhurst which is the town we booked a hotel at. We checked into the hotel and dropped off our bags and got back in the car to drive into Yosemite to check the place out. When we booked the hotel, the info on the web said it was 10 miles from the entrance to the park. What they didn't inform us off was that from the entrance it was a further 25 miles to Yosemite valley. Doh! I don't think Coops minded too much though as he got bomb around the windy country roads in his mini :-)
In Yosemite they have wild bear roaming around. Unfortunately we didn't see ( well amanda was glad) but there were signs everywhere telling to what to do when if you saw them. In the park there were campsites with metal bear proof lockers outside the tents. You have to lock all food in these, even toothpaste. If you don't then you may wake up with a bear trying to eat you.
We spent a good few hours looking around on the saturday. When we were done we headed back to Oakhurst to get ready for dinner. We found a Mexican resturant that looked good so we got a table in there. This dining experience was hilarous. The food was quite good judging how hungry we were, but the waitress staff just didn't have a clue. We must have had 4 waitresses fighting to serve our table. Me and Coops asked for margharitas but with no salt, yet they came ack to us 4 times to ask if we wanted salt. You had to be there really to see the funny side, but it was a good evening. We had lots of beer and wine. Me and Amanda had a bit of a hangover the next day.
On the sunday we left fairly early, around 8.00am. We headed to Starbucks to get some breakfast and then drove to the valley. After we got through the park entrance we drove to the sequoia and redwood trees to get some photos. These trees were amazing, very very large. After we spent some time there we drove to curry village which was near the start of our walk. We had a 7 mile walk planned, but with the extra distance to the car park it was more like 9 miles. Once we parked we put on our boots and then started. The walk we did was the mist trail which takes you too the vernal falls.
The name mist trail should have rang some alarm bells with us, but it never really occured to us that we might get wet on this walk. As we approached the base of one of the smaller falls we started to feel some spray. Eventually the spray turned into a freezing cold power shower which we had to walk through for 20 minutes to get up the other side of the rocks. When we got to the top we were soaked to the skin, luckily it was quite sunny so we sat in the sun for 40 minutes to dry out.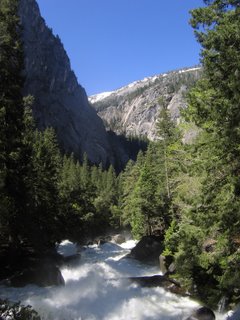 After drying out we continued with the hike. The climb for the walk was very steep, it felt like we was climbing a mountain, and it took a fair amount of effort but when we eventually reached the top, the view was spectacular. Well worth the effort.
When we got back to where we started the walk we went to get something to eat as we were starving. Well Me and Amanda were, I think Coops was still full from the chocolate cookie he had for breakfast.
That evening we went for pizza in Oakhurst, and it was really good and very huge. On Monday we drove back into the park and went back to the sequoia trees and did a mini walk that was around 2 miles.
As we got further into the walk the tree's got bigger and bigger. One of the tree's even had a gap that you could walk through.
Once we had finished with the walk we got back into the car and headed back to San Francisco. We spent the rest of the day chilling out. On Tuesday we went back to Fishermans Wharf so that we could buy our tickets for a Nappa Valley wine tour. Once we had bought the tickets we went and had a look around pier 39. This involved shopping for Amanda :-)
In the evening we went over the other side of town with Coops to meet up with a guy he works with (Mark) and his fiancee (Terry). We had a few drinks in a Bar and then went for a curry followed by more beer.
On Wednesday we went to the Golden Gate Park to look around. We first went to the Japanese Tea Gardens and I had a cup of jasmin tea, we then went to the
De Young museum
. This is a fine arts museum and was much better in my opinion to the modern art museum. Once we finished in the museum we walked back down Haight street looking at all the strange shops. This is the hippy end of town where the hippy movement was supposed to have started. That placed reminded me a little of Camden in London.
In the evening we all went to a new resturant that had opened opposite Coop's apartment called
Bong Su
. We had been keeping an eye on this resturant since we arrived in San Francisco as they were still decorating the place, But we managed to go along on their 2nd night. The food was realy nice, it is a vietnamese resturant.
On friday we decided to take it easy. We did a little shopping in the morning, and then went back to the Metron Center to watch the Davinci Code as it opened on that day. The film was pretty good, I had already read the book though, so I already knew what was going to happen :-)
On Saturday morning we packed ready for our flight home. Coop's dropped s off at the airport and we got our bags checked. Whilst we was waiting for our flight, amanda got called back to the check in desk so she could open her case. Aparently it is standard for them to open everyones cases to inspect them, but we didn't know this. They obviously couldn't open her case easily which is why she was called back. When I got my cases at Gatwick they had picked my locks and re-sealed my bag with cable ties. Amandas bag was literally celotaped shut. I don't see why they needed to open the cases, don't these people have x-rays. oh well.
We got out first flight to detroit, and then our final flight to Gatwick. The flights were ok, we tried to sleep, but that is always easier said than done. When we arrived back at Gatwick we had to drive back to Derby. We were both totally knackered, but we had a good trip.
Labels: Holidays